9 Game RPG Terbaik dan Terpopuler untuk Android dan iOS
9 Game RPG Terbaik dan Terpopuler untuk Android dan iOS
9 Game RPG Terbaik dan Terpopuler – Bermain game mmorpg dapat memberikan kita istirahat dari kesibukan kita. bagaimana bisa? Dalam permainan role-playing ini, kita bisa menjadi orang hebat dan bisa menghancurkan musuh jahat dan menjadi pahlawan.
Untuk gamer online berpengalaman, mereka memahami pengalaman saat bermain game RPG, yang dirancang untuk membangun fantasi pemain saat mereka menciptakan karakter mereka. Mulai dari pemain pemula yang kikuk dan tidak tahu apa-apa hingga mendapatkan julukan pemain tingkat dewa atau pemain mahir dalam game dengan baju besi dan perlengkapan yang hebat.
Pada awalnya, berbagai game RPG populer dan populer hanya bisa dimainkan di PC dan konsol. Namun, sekarang kita dapat menikmati akses tak terbatas ke game RPG online kapan saja, di mana saja, semua dari smartphone kita.
Nah berikut ini rekomendasi Softnyx untuk game RPG fantasi terbaik yang layak untuk dicoba, diantaranya:
1. Genshin Impact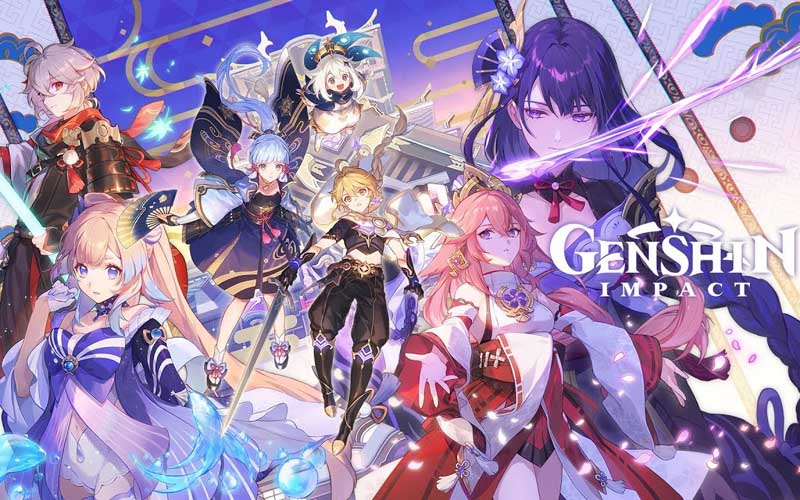 Game besutan miHoYo ini tidak hanya menjadi game RPG terbaik, tetapi juga salah satu game terpopuler di dunia saat ini.
Dalam game Genshin Impact, Anda harus menjelajahi dunia fiksi bernama Teyvat. Anda juga harus mengalahkan berbagai jenis monster dan bos dengan elemen unik yang berbeda.
Selain itu, Anda dapat menjelajahi lokasi rahasia yang ditemukan di Taiwan, menemukan harta karun, dan memecahkan teka-teki.
2. Gaia Odyssey
Gaia Odyssey adalah game yang baru saja dirilis pada Agustus 2020, game ini sangat ringan dan model grafisnya sangat bagus. Tanpa diduga, game ini memiliki popularitas yang solid di antara ulasan Playstore dan ulasan konten pembuat game.
Plot atau gameplay dari game ini, kita akan berperan sebagai petualang untuk membasmi monster jahat di dunia. Kita perlu menyelesaikan semua jenis tugas yang menarik untuk menjadi petualang yang hebat dan sukses.
Gaia Odyssey sudah dapat dimainkan di iOS dan Android, dan game ini telah diunduh lebih dari setengah juta kali oleh pengguna Playstore.
3. Epic Conquest
Permainan ini bercerita tentang sekelompok setan dari dunia lain menyerang dunia manusia, dan karakter yang akan dimainkan nanti termasuk ksatria Alast dan penyihir api Edna.
Epic Quest adalah salah satu game RPG offline terbaik. Terlebih lagi, game ini adalah karya anak desa, dan sudah pasti tidak kalah dengan game RPG terkenal saat ini.
Ia bahkan memiliki evaluasi yang sempurna dalam hal alur cerita, pengalaman gameplay, dan sejumlah kecil data.
Epic Conquest dianggap sangat menarik karena menampilkan sebuah karya seni klasik, dan meskipun grafis 3D berukuran kurang dari 200 Mb, bisa dibilang cukup bagus.
4. Hundred Soul: The Last Savior
Hundred Souls: Tugas utama The Last Savior adalah menyingkirkan monster dengan berbagai jurus yang menakjubkan. Hal yang baik tentang game ini adalah Anda akan melihat kualitas grafis yang sangat bagus.
Bahkan, beberapa pembuat konten menilai grafis game RPG mobile ini hampir setara dengan kualitas game konsol.
Combat debugging yang dihadirkan dalam game ini bersifat real-time, yang artinya pemain dapat memindahkan karakter dan serangan terus menerus yang menakjubkan dengan efek visual yang keren.
Mengutip penjelasan dari situs resmi "Hundred Souls: The Last Savior", pemain akan menghadapi banyak musuh dalam game ini, BOSS-nya sangat besar, dan ada lebih dari 100 game senjata dan peralatan di dalamnya.
Nah bagi yang berjiwa kolektor, mungkin game ini bisa dijadikan referensi kamu untuk bermain game RPG di Android atau iOS.
5. Ragnarok M: Eternal Love
Bagi para penggemar berat game RPG, istilah Ragnarok tentu sudah tidak asing lagi. Nah, saat diluncurkan, game itu hanya bisa dimainkan melalui PC. Namun kini, Ragnarok hadir di platform mobile bernama Ragnarok M: Eternal Love.
Ragnarok Mobile menawarkan apa yang bisa disebut grafis "segar", sehingga mengingatkan kita pada masa kejayaan game Ragnarok di PC.
Sebagai developer dan publisher, Gravity Interactive sangat memperhatikan detail dari game ini. Dari rumput yang bergoyang hingga sungai yang mengalir, semuanya terlihat begitu lembut untuk RPG animasi berukuran sedang ini.
Tema kartun membuat game mobile Ragnarok ini menjadi pilihan untuk mengenang masa-masa tahun 2000-an.
Beberapa pembuat konten berkomentar bahwa game seluler Ragnarok ini merupakan adaptasi yang tepat dari versi PC sebelumnya, tetapi grafisnya telah dipoles dengan baik oleh Gravity dan Xindong sebagai pengembang.
6. Perfect World Mobile
Adaptasi lain dari game PC, Perfect World. Tema permainan adalah dunia fantasi yang memungkinkan karakter untuk terbang (bukan dengan teleportasi) atau berpindah dari satu tempat ke tempat lain dengan "berkedip", tetapi menggunakan sayap yang dimiliki karakter untuk penerbangan nyata.
Lebih baik lagi, medan perang di dunia fantasi ini tidak terbatas, yang dapat memberi pemain pengalaman bermain yang berbeda di udara, di darat, atau di laut.
Meski merupakan adaptasi dari game PC, Perfect World tentu tidak ingin mengecewakan para pemainnya. Sedangkan untuk update penampilan karakternya, tidak hanya manusia, melainkan ras lain seperti elf dan untamed, dengan grafis animasi yang halus, serta penambahan class yang tentunya memiliki kemampuan "khas" tersendiri.
Jiwa petualang kamu akan terasah di game ini, karena map yang disediakan oleh Perfect World bisa dikatakan sangat ekspansif untuk sebuah game HP.
7. Forsaken World: Gods and Demons
Game mobile dianggap sebagai "titik balik", dan setiap game biasanya memiliki jalan cerita yang mengharuskan pemain untuk menyelesaikan misi (quest) dan jalan cerita yang sama dengan pemain lain.
Nah, Forgotten World memiliki jalan cerita yang sangat unik, dan nasib dunia dalam game dapat berubah berdasarkan keputusan pemain sendiri. Dengan demikian, memungkinkan pemain untuk mengalami alur cerita yang berbeda.
Dalam game ini, sistem profesi dapat diubah kapan saja, dan Anda dapat berperan dalam memilih profesi mana yang akan ditanamkan pada karakter Anda. Dan penampilan karakter Anda.
Uniknya, penampilan karakter dalam game ini dilengkapi dengan battle suit, sehingga bentuk wajah karakter bisa diubah-ubah sesuai keinginan pemain sendiri.
8. Black Desert Mobile
Black Desert Mobile bisa dibilang merupakan game masif yang membutuhkan smartphone berspesifikasi tinggi untuk memainkannya.
Mengusung tema RPG fantasy era perang, "Black Desert Mobile Games" tidak hanya bisa berburu monster, tetapi juga membangun barak, mengelola lahan, memenuhi kebutuhan karakter dalam game, dan memperkaya karakter dengan menjual sumber daya yang tersedia.
Peta mode open world yang sangat luas membuat game ini sangat berbeda dengan game fantasy lainnya. Di game lain, karakter bergerak dengan cara teleportasi atau terbang dengan sayap, sedangkan di game ini Anda bisa menunggang kuda jika ingin masuk lebih dalam ke peta.
Dari segi animasi, pergerakan karakter terlihat sangat lembut dan halus. Misalnya, dalam gerakan tangan dan rambut, terlihat seperti gerakan orang sungguhan.
Lebih penting lagi, setting dunia game didasarkan pada alam, dengan air, rumput, dan tanah, yang terlihat sangat realistis, memungkinkan pemain untuk mendapatkan lebih banyak pengalaman saat bermain game RPG.
9. Dragon Raja
Satu lagi game RPG yang mengungguli jenis game lain di kategori yang sama. Dilengkapi dengan mode cerita multi-baris, Klan Naga kaya akan fungsi. Setelah memainkannya dalam satu hari, pemain tidak akan memiliki cukup waktu untuk merasakan semua fungsi dari game ini.
Fitur yang sangat ramai adalah fitur balap antar pemain, dimana pemain menggunakan sepeda motor atau mobil.
Lebih baik lagi, game ini memiliki tema fantasi dunia terbuka, jadi Dragon Legends akan mencegah pemain "petualang" beralih ke game lain segera setelah memainkan game.
Bagi yang ingin mencoba game ini, kami sarankan untuk melihat spesifikasi minimum yang direkomendasikan pengembang, karena kualitas grafisnya cukup bagus untuk kategori game seluler.
Selain itu, banyaknya fitur yang menyertai game ini dapat menghasilkan banyak ruang atau memori yang dibutuhkan. Jadi, untuk memainkan game ini, setidaknya Anda harus menyiapkan perangkat dengan spesifikasi menengah hingga tinggi.
---
Akhir Kata
Bagaimana tidak? Pasalnya, para peminat game ini tidak memandang usia. Baik tua maupun muda, banyak sekali yang memainkan game RPG.